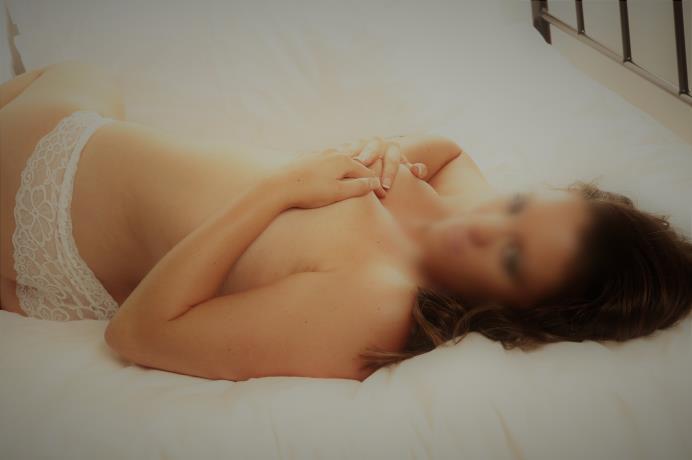 My flat mate Hayley and I had decided that we wanted to experience a foursome but trying to hook our boyfriends in was proving rather difficult, so we decided it would be fun to set up some strangers and besides we were getting bored with our guys. Hayley and I often indulged each other and if one of us had the urge and the other was home we complimented each other. We chose Saturday night, cancelling our dates with our regular boyfriends and set out to a club in Ilford near to where we lived to entice two unsuspecting chaps back to our lair. We knew that most normal guys would probably run a mile if we boldly declared we wanted a fuck fest so we decided to treat them individually as if we were taking them home for a one night fuck.
We set up a 'lair' in my bedroom as it was the largest and I had a huge super king-sized bed, poor Hayley was hemmed into a box room cramped with a double bed taking up every inch. We needed to bring our targets home and trap them by coyly suggesting we thought each was home alone. We changed the bed linen for silk sheets, got an array of vibrators, condoms and butt plugs ready. By the time we set the room both of us were as horny as fuck and it took a lot of self-discipline not to bury our faces in each other pussies there and then. I decided to go completely for the wanton effect and choose a white crotch less lace panty and matching cupless bra. A thin white top ensured my nipples chaffed the fabric in the cool night air so they stood erect and proud, naughty Hayley couldn't resist giving them a quick flick with her tongue, as my pussy grew wet I groaned and slapped her hand away.
The club as usual was hot and heaving and I spotted my target as he heading for the door but then he stopped to talk to someone. With that I brushed past so I could get outside first, my top was almost glued to me and as the air started to cool me down my nipples strained uncomfortably so, I winced out loud. A voice was asking me if I was alright, I spun round and it was Tim, my target. "Hiya, yes I'm just fine, its Soooo good to cool down" I said running my fingers down my breasts. Looking at him coyly I held my hands over my taught erect nipples. Tim gave me his jacket he was carrying and out around me, his hand brushed across my hot aching body. "Ah yes I understand what you mean, you really are chilled" he grinned. After more chatting he agreed to come back for 'coffee' and I'd already seen Hayley leaving 15 minutes earlier with her catch.
I led him to the sofa and immediately I parted his lips, thrusting my tongue into his mouth, the sound of wet saliva filled the lounge and with that we could hear the sound of Hayley moaning with pleasure the bedroom. "Shit I thought you lived alone" Tim said, just as Hayley burst into the lounge naked, giving me a wink she said "OMG, I'm so sorry, I was just expecting Hannah in here". "Well let's make you feel more comfortable and less embarrassed so you're not the only one naked" I shed my clothes quickly pulling Tim into the lair we had created to find a naked guy called Adam on the bed. "What the fuck", said Adam who grinned when he saw me naked. Before anyone could say anymore Tim who was stood there in a gaze taking in the scene before him of three naked people on a huge bed, Hayley started stripping him as I made my acquaintance with Adam.
I looked across and Hayley was feverishly licking and sucking the penis and balls of Tim, while Adam reached over and started licking her cleanly shaved pussy. She was squirming and moaning from the oral attention, passing it along just as skilfully to Tim in her mouth. The noise was escalating with her as he ate her out faster, willing him to make her cum. Louder groans from the threesome drew my attention to Hayley she was on point of no return, and I could see her trying not to choke under the oral thrusts of Tim. She twisted her head to escape him while trying to push him from her mouth, but he would not allow her to get away completely, and ended up spraying all over her face. She was blinded by the sticky mess, and tried to wipe herself with the sheets, but before she could succeed, Adam rolled her onto her stomach. Tim grabbed her by the wrists and pulled her arms out straight. Adam came up behind with his penis in hand, stroking it to ensure its preparation. He kneeled behind her and spit into his hand, then stroked it once on his shaft. Then with a quick thrust, he plunged into her, drawing gasps from deep in her throat.
Her wrists kept her down as the penetrator's weight kept her pinned to the bed. His hips worked with the speed of a rabbit. She winced below each thrust, moaning expressions of her pleasure. It was not long before he was Cumming also. He tensed up in orgasmic contractions, withdrawing to shoot his seed all over her back. As he finished, the attention turned to me it was now my turned to be used and abused, I demanded I be double penetrated for being made to wait and I instructed Hayley to sit on my face so I could pussy. I drank and suckled the nectar of Adam's cum mixed with Hayley's like a beautiful cocktail of fuck.