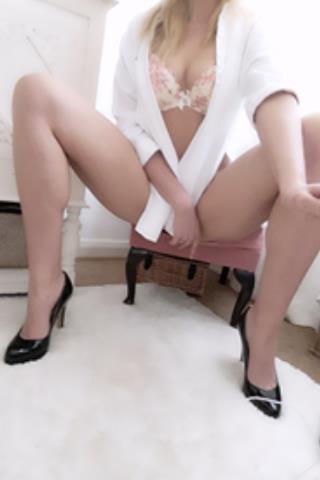 I knocked on the office door and entered where I was greeted by Mr. J who shook my hand firmly then motioned for me to have a seat. I sat on one of the chairs provided and removed my coat. Today I was wearing v neck see-through white blouse with a red bra and matching panties. I crossed my legs allowing my short black skirt to ride higher up my long legs, my gaze meeting his squarely.
He cleared his throat, "So tell me about yourself?"
"My name is Kay. I'm very thorough with all my jobs. I ensure that my boss is happy." I slurred as I batted my long eyelashes.
"In what ways can you make your boss happy?" Mr. J got up from his chair and made his way to the front of his desk. He leaned against it and folded his arms across his chest, his eyes moving from my black stilettos over my long legs.
I allow my fingers to run along my breast and I play with my nipple until they are hard and printing though my thin fabric. He walks over to me and stands behind my chair. I smile as I undo the buttons of my blouse and remove it giving him a full view of my laced clad breasts. He swore softly then leaned in from behind and cupped my breasts. My breasts respond to him as he found each nipple and played with it between his fingers, each one now bursting against my bra wanting freedom.
I sit forward a bit giving him access to the hooks of my bra which he quickly released.
"Stand."
I stood and he took one breast into the warmth of his mouth then the other. Soft moans escape my throat as my knees become weakened with each touch. I could feel my cunt dripping and twitching ready for action. But I must wait until he is ready.
I held my breath as he quickly removed my skirt, not really caring about my matching panties since he quickly removed it as well. I stood naked before him as he caressed, probed and tasted my body. He stood behind me and pushed his fingers into my aching cunt while he squeezed my breast with the other hand. I open my legs giving him as much space as I could as he fondled me while I stretched my hands behind to wrap them around his neck.
I rotated my ass against his already erected cock and moaned deep in my throat. I allow my finger to run through his thick wavy hair and he moans audibly sending shivers down my spine. It was a deep masculine moan almost like an animalistic type groan.
I bend over and hold the table in front of me as I continue to rotate my ass on him. I pushed my back down lubricated my ass with his spit before finding my hole.
"Oh fuck," I swear softly as his fingers move in a rhythmic pattern in my ass and in my cunt. I push against him wanting him, wanting his cock to fill me as I scream his name as I orgasm.
Mr. J fumbles behind me and I know he's taking his cock out and it excites me. He's not like other men. He doesn't ease it in. Mr. J doesn't make love. Mr. J fucks.
I brace myself as he rams his cock into me over and over again by breasts bouncing in front of me. I stretch my hand behind me to grab him but he slaps it away so I keep my hand on the table. While his cock fills my cunt he fists my ass and I scream out in pleasure not caring if anyone outside heard.
"Fuck me harder," I pant.
Mr. J does as I request and I keep up with him as he fucks me. He gasped loudly as he holds me close and releases his seamen into my cunt. This time it was his turn to lean against the table. I stooped in front of him and suck his cock, making those loud slurping noises that he loves. I lather his cock with my spit and I suck the tip while my hand pumps his shaft.
He holds my head so that he fucks my face. I could feel his cock touching the back of his throat. I look up at him and his eyes are closed and his head was leaning slightly to the side. I smile as much as I can with his cock in my mouth. I let my tongue close in around his cock increasing the pressure against his cock and he swears again. I taste him as he cums in my mouth. He had a bitter taste but I swallowed it all up because that is what he likes.
He pulls me to my feet when I'm done and sits me down on the chair. He adjusts his clothing then drapes each of my legs over the arms of the chair.
"I want to see you cum."
I part my throbbing lips and get to work. I fingers slid into my wet cunt easily. I close my eyes and put my head against the chair. I adjusted my ass so that my fingers could go deeper inside of me. I find my g-spot and my clit and moan. I move my hands quickly and increased the pressure knowing that my climax was close. I squirted my juices all over his chair and on his carpet. I had no doubt that he would make his secretary clean it up after I was gone. I open my eyes and smiled at me.
He handed me an envelope and I knew my time with Mr. J had come to an end.
"You made your boss very happy today. Same time next week?"
I smile and nodded, "I'm glad that I did."
I dressed quickly and left the office not looking left or right. Nobody would have thought that I was an escort. The life of an escort is the best life for me.