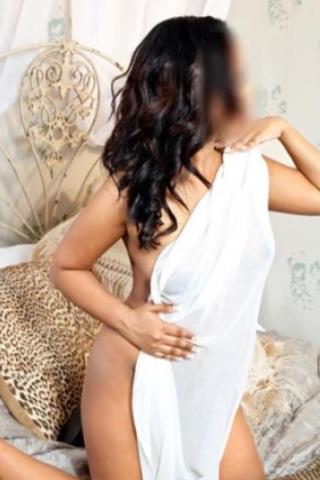 This has to be the weirdest but most erotic dinner party I have attended. I was invited out by a group of clients who had received healthy returns on investments recommended by myself. They had come over from Tokyo, hiring a luxury apartment overlooking St Katherine's Dock. I was instructed to turn up at 8pm promptly as dinner would not last long. As I rode up in the private lift I wondered what the big mystery surrounding this evening was. I was greeted in the normal Japanese fashion and a warm glass of Sake was handed to me by a Butler.
At 8.15pm sharp we were ushered in to the dining room and laid across a Japanese floor table was the most beautiful and dainty Japanese girl with all manner of food laid out on her. My cock bounced around in my boxers at the sight of this pale porcelain skinned girl with rouged lips and cheeks laying there as human platter. We were seated and as guest of honour I was seated at the crotch area of the 'platter'. I was told not to be shy and I could eat anything I wanted too, nothing was out of bounds.
The girl lay there still she had obviously done this before, her nipples were hard erect even though the room was very warm. It then occurred to me that she was actually horny, laying there covered with food with strangers about to feast off her. I waited and watched the others as they just started helping themselves to pieces of sushi as if this was a normal sushi bar. I followed suit and very soon more of this girl was unearthed, the men grew quite raucous and started laughing and talking in Japanese as they were trying to 'pick up' her nipples with chopsticks.
As her shaved and perfect pussy became bare I could see the little tongue of her inner folds poling out, teasing me. Hell they looked so enticing, I reached for a piece of food and lightly brushed over her quim with my chopstick delicately tickling that cheeky labia. A smell of musk and a dampness appeared, I look at her face and she looked so serene, no hint of anything sexual. I looked again and pussy definitely told a different story she was wet.
When she was cleared of food, the men were using their chopsticks to stroke her so I readily joined in. My cock was so painfully encased in my trouser, I squirmed in my seat trying to re dress myself much to the amusement of my hosts. My face flushed but there was nothing I could do and several of the others where in the same state of heightened arousal.
I began to stimulate her pussy, cleaving in and out of those lips, using that stick as an object of tease, she laid the motionless without saying a word, and she really was a living doll. This seemed to turn me on and send me wilder than ever, driving me on like a challenge trying to get her to react. I started to insert the chopstick inside her, my head was giddy with warm Sake which didn't stop flowing. I danced it around the walls and manipulated around her cervix, I brought it out, looking at her I slowly licked it clean. There was applause and one of the hosts was slapping me on the back saying I had to enjoy the feast as much as possible.
I was offered dessert and wondered what it would be so I readily said yes. With that I was instructed to remove my trousers, I was now loose enough from the Sake not to care that I was in a room full of clients and I slipped them off. The girl was placed on a regular Western table so her legs hung down and her back remained on the table. Someone slid my boxers off and my hard and very full cock sprang free.
This was my dessert, the ultimate honour they could bestow on me, I was to fuck her. I reached out and discovered she was so aroused and wet I would just thrust into her. I grabbed her legs lifting them and thrust into her, showing no mercy, despite the wetness I could see in her eyes I hurt. My cock is very thick and wide and this slip of a woman had a small tight slit. Ever the professional she made no sound, her pussy made all the noise. My ball sac was slapping her little round mons and the other chaps had their hands all over her, one was flicking her nipples, it must have hurt but I now she was enjoying it as her internal muscles clamped and clenched ant every touch.
With a huge crescendo and relief I came, spilling my hot seed inside her, my living doll impaled on my cock. I gripped her as I fired deep into her uterus hoping she would have a permanent reminder of our coupling. This was most definitely a very fine banquet indeed.