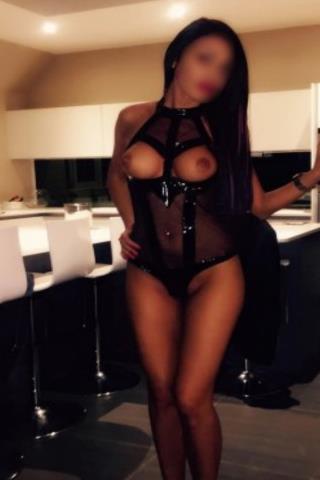 When Jenn arrived at her client's house, he was unprepared. He was filthy from working construction all day, but she was happy to wait as he freshened up in the bathroom. She sat on his bed as he took a quick shower in the en suite bathroom. He came out wearing nothing but a white towel wrapped around his waist. He was still dripping wet and it made Jenn excited to give him a taste of her sweet, wet knickers.
"What is that?" She jokingly asked about the towel. "Drop it!"
Without any hesitance, her client dropped to towel to the floor, revealing his throbbing hard dick.
"Come lay down beside me." She insisted, "Let me give you a massage."
It was very rare for Jenn to be so kind with her clients, as she typically enjoyed dominating them instead. She thought that the twist this man was about to receive would be fun. He had no idea what he was in for as he laid on his stomach beside her on the bed.
Jenn straddled over his naked buttocks, allowing him to feel her wet knickers from underneath her skirt which was now hiked up over her waist. She took some oil and massaged it into his back. She slowly worked her way down, massaging his butt, thighs, and calves. Her last spot was his feet... The one place she was longing for this whole time. Jenn began to massage the oil into her client's feet. She separated his toes and placed pressure on the arches of his feet. They were rough and dry from being in his construction boots, but the dirtier always made Jenn more excited.
Jenn slowly slipped one of his toes into his mouth, and he jolted up from the bed.
"What are you doing?" He asked.
"Lay back down." Jenn demanded, her entire mood changed.
"What?" He asked confused.
"Do as I say. You are my little bitch and I want to suck your toes. You will like it." She insisted.
"Ooh, feisty girl, huh?" He joked as he laid back down on the bed hesitantly.
Jenn took her tongue in between the ridges of his toes, sucking one by one as she massaged his feet. She could hear the man began to squirm and moan a little, giving her reassurance that her little slave might just do what she demanded.
"I told you you'd like it." She said. "Show me how hard your dick just got from my sucking your toes."
She pushed her client from his stomach to his back and shimmied her body over top of his legs. His dick was popping hard and he looked somewhat shy. This only made her more eager to dominate him.
"Oh, is the little man shy that he just got turned on from his toes?" She said, "I'm going to suck your dick just the same way."
Her client complied and suddenly looked at ease. Jenn didn't like this. He was supposed to be her submissive little slave and she knew that she had to change the pace. She grabbed his testicles hard, and once again, he jolted in surprise. Jenn opened her mouth and began to suck on his balls. Again, her talent seemed to please him.
Just as her client was about to reach climax, Jenn slid her finger inside of her wet pussy and pulled it out, her finger drenching with her cum. As she continued to suck his balls and wank his dick, she was prepared to give him the biggest surprise of the night. As her client's breath grew shorter, she knew he was about to reach climax, and just as he was reaching his peak, Jenn shoved her wet finger in his asshole, putting pressure on his G-spot as she continued to take his dick and balls in her mouth. He immediately tensed up as he shot a fresh load of cum far in her throat. Jenn didn't stop fingered his tight asshole until every last drop was in her throat.
"I think we just discovered two new fetishes of yours, didn't we?" She smirked as she removed her body from on top of him.