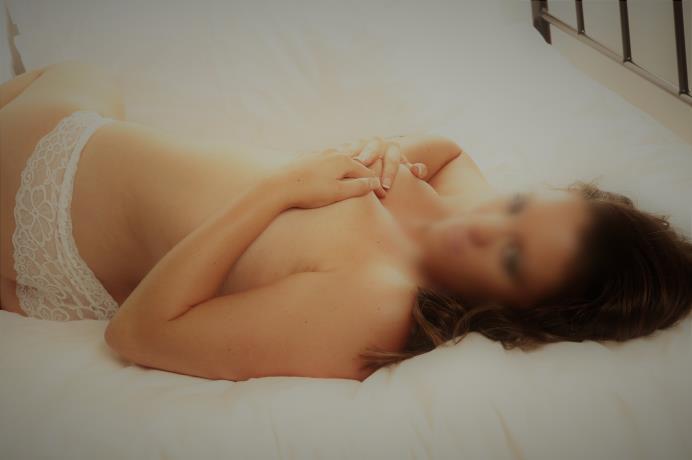 Sasha is an escort who thrives on popping men's cherries, especially when they are straight and anxious to explore the pleasures that can come from anal stimulation. She scheduled an appointment with a younger male who was eager to open himself to pleasure and explosions that he had never felt before. The man was extremely kind, but Sasha was ready to implement a power shift into his sexual fantasy.
As she arrived at his house, she instructed him to undress her. The man did as he was told and licked her pussy as she demanded. Sasha was instantly wet as his tongue circled and flicked her nipples. She pushed his head down to her pussy and demanded for him to sniff it. He did as he was told and feeling his warmth breath on her wet pussy almost made her cum right then and there. She had to remind herself that she was at his house for his anal stimulation, and not only for her own self satisfaction.
"Get in front of me." She told the submissive man, as she began to massage the front of his body as she stood behind him. She felt and massaged his pecks and chest, placing close attention to his nipples and trailed her hands down his body to feel the bulge that was popping out from the underneath of his trousers. She trailed her hands from the crotch of his pants down to his backside. She continued to tease him for a few more minutes until she demanded him to take off every piece of clothing, one item at a time.
The man did as he was instructed as Sasha went over to her bag and pulled out a butt plug. As began to stroke his body again, lingering around his ass for much longer this time. She motioned him to bend over as she spread the lube over her hand and used her fingers to massage it in his ass. She circled his anus and softly inserted her finger into his tight little asshole. Once she was sure that he was all lubed up, she instructed him to get on all fours on the bed. Of course, the man did as he was told once again.
Sasha took out a condo and wrapped it around the butt plug as she crawled onto the bed behind him. She rubbed the butt plug on his asshole, allowing the object to become covered with the lube from his ass. The anticipation was killing him, and his cock was ragging hard. He felt as if he could cum at any moment. Sasha reached down with one hand and began to gentle stroke his thick cock and balls that were hanging low. She allowed his anus to relax as she wanked his dick, and slowly but forcefully pushed the anal plug all the way into his anus.
He instantly tightened up around the butt plug and moaned in pleasureful pain. Without removing the butt plug, Sasha asked him to roll over onto his back and to place his legs together to keep the butt plug plunged in his ass. She walked over to his face and got on top of him, placing her wet pussy on his face. She leaned forward and took his entire cock in her throat. She gave him a warm, long, sensual blow job as the butt plug was plunged deep in his ass. Sasha felt his tongue leave her pussy and trail to her ass. He carried her cum on his tongue, up to her asshole and began to finger fuck her as fast as he wanted her to fuck his ass.
With one hand, Sasha began to wank his dick hard as she reached down for the end of the butt plug and began to push it further into his ass. She could feel his body begin to tremble and demanded him to get behind her. She reached back and grabbed his dick and rubbed it up and down her crack, only stopping to slap his hard cock on her soaking wet asshole.
"Now, lick it all up!" She demanded. Just as he bent down to stick his face deep into her ass, Sasha reached back once again and grabbed his dick with one hand and the butt plug with another. He was reaching climax quickly as she wanked on his long, hard shaft. Just as he was about to cum, she quickly pounded the butt plug into his ass and quickly removed it as he shot a huge load of cum. As he squirted out every last drop, she motioned him to lay on his back once again and spread his legs wide. Sasha licked his ass and cock, and every last squirt of cum from his cock and ass. Before she was done, she stuck one last finger into his ass that made him quiver uncontrollably as he came once again. She pounded her finger deep into his ass until she was sure that he had no more cum left inside of him.
"Now next time, I'm going to fuck you with a strap on." She said as she tossed him his clothes from the floor.