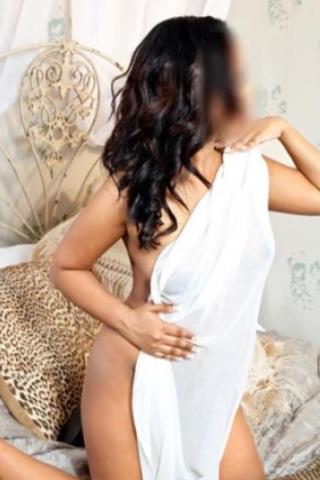 Lola and I arrived at the hotel and immediately went to Room 66. Lola and I decided just to wear short leather jackets and stilettoes to finish our look. Mr. James emphasized that he wanted busty escorts and we ensured that we had enough cleavage showing to get our point across. A few heads turned as we walked through the corridors but we held our heads up and glided across floor like goddesses.
We received an email from a Mr. James about two weeks ago who shared his fantasy of being with two women at the same time. He said that he was often jealous when his friends had these amazing stories to tell when they went out but nothing he ever did ever came close to being amazing.
I knocked on the door and much to my pleasure stood a tall, dark, handsome brother in a robe. It was like drinking a cold glass of water on a hot day, just refreshing.
"Good evening Mr James. I'm Precious and this is my friend Lola."
"Hi ladies come on in." He moved aside to let them enter.
The hotel room had the basics; a bed, chest of drawers, a small table and a lounge chair. I sat on the bed and Lola took the lounge chair. We both sat and crossed our legs encouraging the jacket to slide up our thighs.
"So Mr James we understand that this is your fantasy and we would like to play it out exactly as you would want us to."
"I really don't have anything really in mind as to how I really want this played out," he cleared his throat, "I'm more concerned really with having the experience."
I stood up and dropped my leather jacket and Precious did the same. I looked at Mr James and noticed that his erection was growing under his robe. He seemed a bit unsure of what to do so Precious and I moved in to engage each other.
We caressed each other as our tongues danced. She stroked my back with her fingers and I squeezed her ass and smacked it playfully. I always enjoy when I'm paired with busy escorts because I enjoy breasts just as much as any man. My hands cupped her huge breasts and kissed them tenderly, sucking each one at interventions before returning my lips to hers. I looked at Mr James who was sitting on the edge of the bed pumping his cock.
I carried Lola to the lounge chair. I sat first and placed Lola in front of me. She wrapped her hands around my neck and I lifted one of her legs exposing her neatly shaven pussy to Mr James. I lubricated my hands before parting her pussy lips showing Mr. James her sweet pink spot. I inserted two of my fingers and Lola moaned lustfully. I squeezed her nipples with my other hand enjoying every sound that came from her.
"Why don't you join us Mr James," I said as I licked my lips playfully.
Mr. James with his cock in hand came towards us. He knelt in front of Lola, he placed his hands below her ass and lifted her pussy to his mouth. He sucked her pussy while I played with her clit. After a few minutes we changed positions. I lay on the chair with my legs wide open inviting Lola to play with my pussy while Mr James took her from the back. Lola held my legs apart as she sucked my juices. My breath became shallow as she fucked me with her tongue.
"Oh Ohhh."
Mr James was finally getting in the zone. His grunts became louder with every thrust that he made into Lola. I lifted Lola's head and sucked my juices from her lips. I got up and opened Mr. James legs as well as widen Lola's legs. I sat between them and played with his balls as I licked Lola's pussy. Mr James thrusts became intense as I placed his balls in my mouth and flicked it with my tongue.
I moved slowly from sucking his balls to slowly moving Lola from off his shaft so that I can suck that too. Lola and I took turns sucking him independently as well as sharing him. It wasn't long before he exploded on our faces. The hot semen ran slowly down to my lips and I liked it off. Lola sucked the remaining of semen from Mr. James still very erect cock before she licked it off my face. I did the same with her.
"Let's take this to the bed," I said as I took Mr. James hand.
I pushed him down gently and I eased my way onto his cock. My pussy expanded taking him in all the way. I slowly bounced up and while Lola played with my nipples. She squeezed my breasts together and I bent my head so I could suck my nipple much to the delight of Mr. James. I motioned to Lola who positioned herself over Mr. James' face in the 69 position.
I moved forward and captured her lips with mine; the mixtures of our juices lingering on our lips. I turned around still sitting on Mr. James' cock. I closed his legs together and squeezed my pussy intensify the sensation that his cock got. I moved back and forth steadily on his cock feeling myself coming to my climax.
I couldn't hold it in anymore and screamed out as my body went into climax but I had no time to really lay back and enjoy it I was still on the clock. I came off his cock and Lola and I used our teeth, lips and tongue to send Mr. James over the edge and shortly after Lola climaxed as well.
Lola and I wrapped Mr. James arm around each one of us and I whispered in his ear as I slowly stroked his chest, "Were we able to fulfil your fantasy Mr. James?"
He kissed each of us on the forehead, "Yes you did ladies. Maybe we can do this again sometime?"