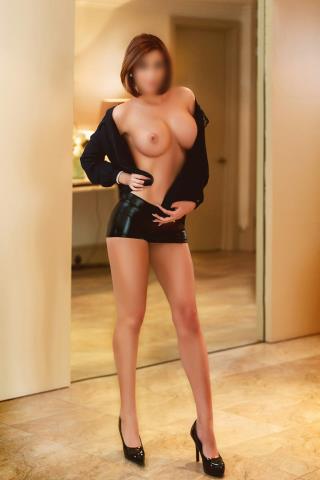 Bev has always been an escort who loves the idea of dominating a man and stripping them of all of their manhood, so she was extremely eager to have a new client who was ready to be tortured for the first time in his life. She was happy to be his first dominatrix slag, and she was even happier to make him the slave that he was for the very first time.
As the client entered Bev's home, he followed her into the bedroom. As they entered the room, the client's eyes immediately gravitated towards the ropes, scissors, ball gag and hand cuffs that were laying on her bed, and Bev turned around to shoot him a wink as she watched his face grow with curiosity.
Once settled in her room, Bev turned around to face her client... Also known as her slave. She ripped his shirt open and immediately took off his pants and ordered him to his knees and to put his ass in the air. He had a timid look on his face at this time, and his body went pale with shock. Bev picked up his belt from the floor and whipped him hard with it, like he deserved. She continued to whip him until he was red and bruised, begging for her to stop. You could see his welts and cuts from a mile away because they were so big. Bev was furious because he was whining like a little boy, so she grabbed the ball gag and forced it into his mouth.
"Now what's your name, slave?"
"Tony".
"I don't fucking care," She shouted, "Your name is slave, and you better wait here. Don't move a muscle."
Bev exited her bedroom to dress up. She could still hear her slave whimpered from the pain that was inflicted on his back. He was contemplating running away but knew that the two would be able to catch him, so he waiting there on the floor, gagged and naked, just the way Bev wanted him.
Once she returned into her bedroom, Bed was wearing full dominatrix gear. She was wearing a black corset that only had material up until her breasts which allowed them to pushed up and bare. She also had on a pair of tight leather shorts and high strappy stilettos which completed her outfit. She had a black whip in one hand, and handcuffs in the other and was eager to use them. She looked so sexy that for a second, and just a second, her slave forgot the situation that he was in and stared in a daze, admiring her beauty. It only took one crack of the whip to bring her slave back to reality and the predicament that he was in. She walked straight up to him and twisted his arms behind him and began to handcuff them. When her slave asked what she was doing, Bev only replied that he had been a bad boy and he was going to get punished.
"I'm sorry!" Her slave pleaded. Bev quickly whipped him across the back again and pushed him on the bedroom ground again.
Every time her slave hesitated or grunted, Bev spanked him and punished him until he stopped and started to behave. It was a good time for him to do so because if Bev had continued to beat him, he would have definitely started to bleed, and she does not like a mess on her carpet. Because her slave began to cooperate, Bev unstuffed one hand and cuffed the other to one of the bed posts. She took out another handcuff and cuffed the free hand to another bed post. She tied his legs together from the ankles up to his knees with ropes, and stood at the end of the bed as her slave lay on her bed, control less. He was securely fastened and was at her mercy, but she was not done yet. She took out elastic bands and slapped on tightly around his balls, and to her delight, all the fondling had made his cock nice and hard. Again, just the way she wanted him.
Bev dropped her leather shorts to the floor and watched as his eyes gazed at her soaking wet, bare pussy.
"Eat that pussy you little bitch." She demanded, "You wanted it, so now lick it till I cum, do you understand?"
"Mmhmmm"
"It's yes, Mistress, bitch."
"Yes, Mistress".
Bev lowered her pussy onto his face as she straddled him. The good little slave that he was. He immediately started to flick her clit with his tongue. Her pussy was throbbing at the idea of a complete stranger eating her pussy. She could feel her pussy start to twitch and tighten as she became soaking wet. Her slave licked and sucked longer and harder on her clit as she began to grind on his face. Bev was sighing in ecstasy, and the louder she got, the harder he licked.
"I'm going to squirt in your mouth and you're going to take it all!" She said to her little slave that was pleasuring her intensely. He didn't stop licking to respond to his mistress. His stubborn and determination made her even hotter and closer to climax. She wanted to squirt for him right then and there, but didn't want the pleasure and incredible sensations end just yet, so Bev turned herself around and placed her little asshole right on his mouth. She reached behind her to spread her cheeks, allowing her ass to get right on his face. He tongue was deep inside of her dirty hole.
He licked fiercely as she began to climax. She came long and hard and squirted all over his face as she held his head deep inside of her ass and she rocked every last drop of her orgasm out on him.