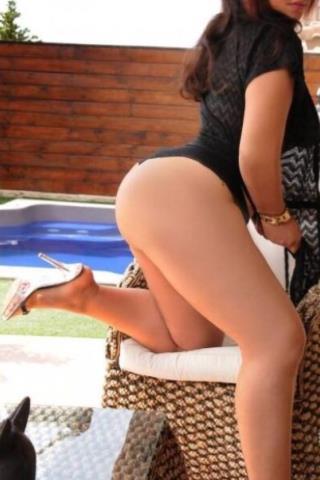 Monica is a beautiful Italian woman with a wildly promiscuous side for strangers. She was travelling with some friends and was staying at a hotel that offered a community hot tub. Tired, horny and eager to get away for some alone time, Monica headed down to the hot tub late at night, assuming that it'd be empty due to the hour.
However, when she arrived, the hot tub was already occupied. Although Monica was not looking for company, she couldn't help the temptation of the hot water and steam taking over her body. Plus, the guy that was already in the hot tub wasn't too harmful on the eyes.
As she slipped her soft legs into the hot tub, she turned to the man and asked, "Do you mind if I join you?" How could he say no, as she smirked with her cute, seductive smile and engaging eyes.
Without another word to one another, they sat on opposite sides of the hot tub and slipped into their own worlds of relaxation. Monica began to moan from the pleasure of the hot water covering her body and the powerful jets pounding her body. She was in a world of complete ecstasy.
As she slipped deeper into her own world, tuning out all surroundings, she spread her legs wide as she slid her hand softly over her clitoris, letting out a loud groan.
It was so loud that it brought Monica back to reality, remembering that there was someone else also occupying the hot tub. To her amazement, when she opened her eyes, the sexy man was stroking himself, letting the tip of his head peep out from the water, staring right at her with this tempting grin.
Monica was soaking wet and seeing this stranger stroking his cock right in front of her sent her pussy into a thunderous spasm of pleasure. She arched her body, allowing the stranger to get a peek at her shaved bald cunt. As she brought her full, luscious lips and swollen clit back under the water, she began to rub and massage her tits as she watched the stranger masturbate right in front of her.
She began to slide her hands down her body until they disappeared under the water.
"Come here!" she flirtatiously requested of the stranger as she began to slowly rub in between her pussy lips. The stranger obeyed as he continued to stroke his cock and moved closer to Monica in the hot tub. He could see her juicy pussy underneath the water as she opened her cunt lips and tickled her clit. Still gripping his cock, the stranger lent Monica his fingers as he slid them deep into her craving pussy. He began to thrust his fingers deep into her pussy rapidly as she screamed, "I'm going to cum!"
Just as the words slid from her mouth, Monica arched her back again, revealing her pussy just above the water. The stranger took her legs on his shoulders and drove his tongue right in Monica's vagina as she gushed all over him. He buried his tongue deep into her pussy as he tasted all of her sweet juices flowing into his mouth.
Needless to say, the stranger and Monica ended up having various late night encounters in the hot tub for the rest of the vacation!